Like most children, I had a humidifier in my bedroom and I absolutely hated it. It was loud, it constantly hissed, and made the room reek of menthol as it hogged up my nightstand!
However, compared to the early 1990's models these new machines out on the market are not only EXTREMELY quiet but also MUCH smaller. In addition each humidifier is designed to dispense moisture into the air differently in order to provide a better breathing experience.
In the case of Vicks humidifiers, the three different designs are: evaporate, vaporizer, and ultrasonic. The models that use these designs are:
The Starry Night model, which is an Evaporative Humidifier.
The Mini model, which is a Vaporizer Humidifier.
The Ultrasonic model, which is exactly what it sounds like: an Ultrasonic Humidifier.
So, what are the differences between these three types of humidifiers, how do they work, and are they worth that hard earned cabbage in your wallet?
VICKS STARRY NIGHT EVAPORATIVE HUMIDIFIER
VICKS MINI VAPORIZING HUMIDIFIER
VICKS ULTRASONIC HUMIDIFIER
Vicks Starry Night Evaporative Humidifier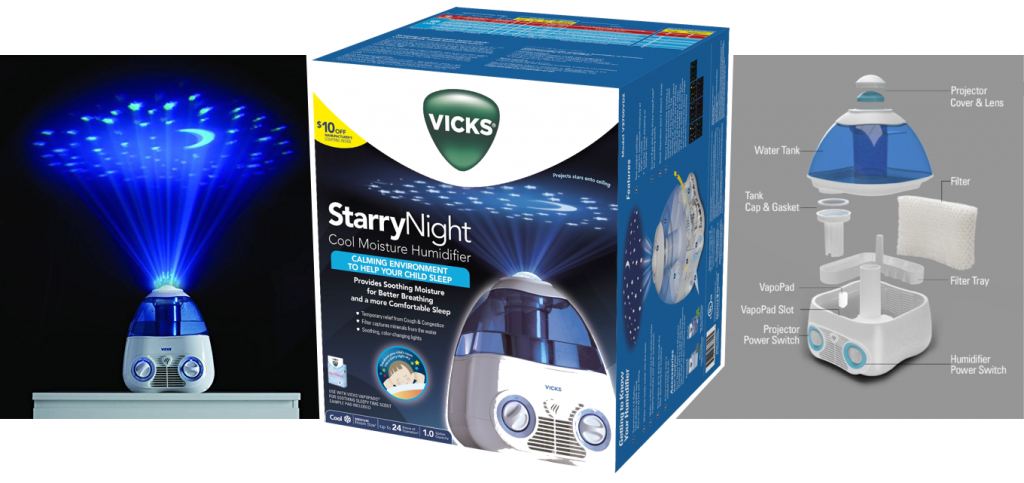 How Does it Work?
The Vicks Starry Night Humidifier was one of the first models I encountered, and I found it fascinating (no Spock pun intended).
It uses "wicking filters" to release moisture into the air. The filters are anti-fungal treated to prevent the growth of mold, mildew, and other forms of fungi within the tank. Water passes through the tank, down into and through the filter. A fan blows the resulting moisture out, causing it to quickly 'evaporate' into the air.
And since air will not absorb more moisture than it can hold, there's no need to worry about over-humidification, which I felt was an excellent plus.
The Pros
This unit is PERFECT for a household with children and pets, and is very safe to use. And in addition to combating the growth of bacteria, mold, and algae within the unit, the wicking filters also help to remove minerals and pollutants from the water.
This evaporate technology is widely used in hard water areas since its design helps to prevent 'white dust'. White Dust comes from minerals deposits in water that are expelled into the air by a humidifier, and form dried mineral deposits on surfaces in an enclosed environment, such as a bedroom.
This could be potentially troublesome for those struggling with asthma, lung and sinus conditions, or allergies. Best of all, it comes in several color options (pink, blue, purple, green) for that added personalized touch, which I liked!
The Cons
Even with the filters, bacterial contamination is a concern regarding this model. However I found that if you clean the unit regularly and change the filter out consistently, you should be just fine.
FAQs
Q:How much water do you put into the tank?

A:The tank is designed to hold 1 gallon of water.

Q:How do you clean the tank?

A:This depends on your preference; some people find using just a few drops of dish soap swished around and then rinsed out followed by a Clorox wipe wipe-down works. Others soak the tank in vinegar, much like I do in order to clean our coffee maker here at home. If you feel safe enough using it, a little bit of bleach and giving it a good rise out will do the trick, too.

Another option that seems to work would be the Protec Cleaning Fish, and good news: it is compatible with the Starry Night Humidifier!

Q:How do you clean the filter, and which brand is best suited for this model?

A:It is not recommended that you clean the filter as any cleaning agents used on it will be absorbed, rendering it useless. Instead, you should change out the filter regularly, which varies depending on how often you use it. I found the recommended time frame was somewhere between 4-8 weeks.

The filters that are usually recommended are the Protec Wicking Filters, however I read that many people complain they don't fit, no matter how much you scrunch it up. I found the Fette brand to be a better choice as it actually is compatible.
---
Vicks Mini Vaporizing Humidifier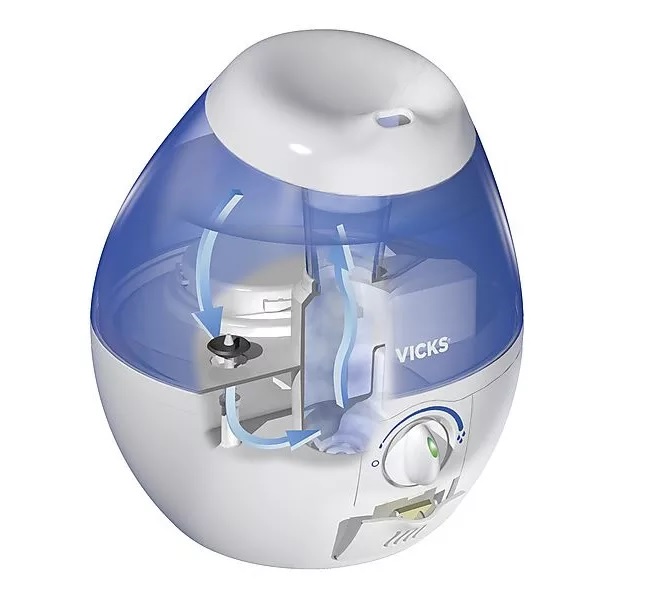 How Does it Work?
Unlike the Starry Night model, the Vicks Mini humidifier does not require a filter, which was mind-blowing. From what I gather, it appears to be set up as though it were a tea kettle. You fill the tank with water, put the top on, adjust the humidity level to the desired setting, and watch the water come out as a visible 'vaporized' mist; happy breathing.
The Pros
This one is extremely easy to use; it does not require the use of a filter or cartridge (which saves money), it comes in a variety of colors for that personal feel (Pink, Blue, and Green), Auto-Shuts Off once the tank is empty, and features a wide tank opening for easier filling and cleaning. The Cons:
The Cons
HVAC.com, a website created and maintained by heat and air experts, found this little unit consumes a considerable amount of energy. And remember the tea kettle analogy I used? It turns out you can get burned by this product if you are not careful. Perhaps most disturbing Con were the words, "Not for use near children". Having said that, I believe this is because of the burn risk mentioned. Add to that it was recommended on virtually every site I visited that the humidifier be placed in an area out of reach of an infant or child.
FAQs
Q:What kind of water can you use? Does tap water work?

A:It is highly recommended that you do not use tap water as it can cause 'white dust' particles to enter the air and thus your little one's lungs. I would say using distilled water only is your best option.

Q:How do you clean it?

A:Vinegar is always a good, natural choice of cleaner as I mentioned earlier. However, I know not everyone cares for it, especially because of the after-smell!

If you're not comfortable with that idea, The Protec Cleaning Fish is also compatible with the Mini (yay!).

There are also useful cleaning tips inside of the owner's manual.
---
Vicks Ultrasonic Humidifier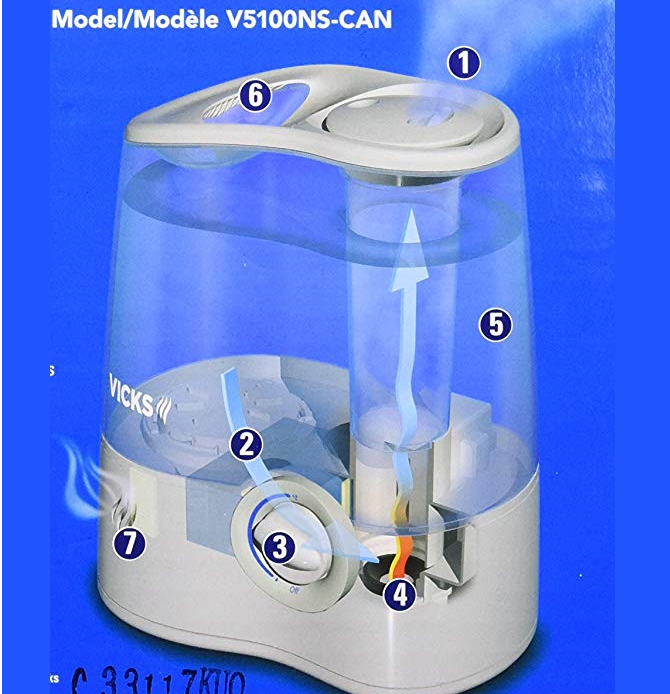 How Does it Work?
Unlike the Starry Night and Mini models, the Vicks Ultrasonic Humidifier has a very unique way of dispensing moisture. Water inside of the unit is atomized (meaning it is broken down into fine particles or droplets) by the vibrations of a metallic diaphragm, which is essentially a built in nebulizer within the unit as stated on the Vicks website. That's pretty much it–the vibrations turn the water into droplets, and you reap the benefits of the cool mist that billows out. You can also use the VapoPads for additional comfort if you choose, and like the Starry Night and Mini, you have control over the humidity setting.
The Pros
This particular model uses very little energy as it runs, makes absolutely no sound, and doesn't have any hot surfaces, so you won't burn yourself as you might with the Mini. Additional benefits are that it is not high maintenance, and it does wonders for those who suffer from asthma and allergies!
The Cons
Bacterial contamination is something that can occur as well as the accumulation of the infamous 'white dust'. At the Very Well Family website, Vincent Iannelli, M.D. lended his professional opinion regarding which humidifiers were best for infants and children. He pointed out that a study found Ultrasonic/Impeller humidifiers are, "[…] known to disperse materials from their water tanks into indoor air. Evaporative humidifiers, which use a fan to blow air through a wick or filter, do not". Basically, an Ultrasonic/Impeller can potentially expel the highest amount of pathogens into the air, which go into your lungs as you breathe.
FAQs
Q:How does this humidifier turn on?

A:Plug in the humidifier; make sure that you have filled your water tank, and that your hands are completely dry. Then switch the power knob from the "Off" position into the "On" position; breathe happy!

Q:How do you fill the water tank?

A:Simply take the tank off of the base and fill it with water. The water tank is translucent, meaning you can see right through it, so you know where the water level is at all times. The maximum capacity is 1.2 gallons–the entirety of the tank.

Q:How do you clean it?

A:Very simple: just rinse it out, wipe down the parts, and then let it air dry. Or for a deeper clean, try using a bottle brush and vinegar. Step-by-step care instructions can be found here.

Also, on the subject of cleanliness you'll want to change out the unit's filtration cartridge once a month. I found it can be tricky to find the right cartridge, however there is hope. The Kaz Protec Demineralization Cartridge is compatible with this unit and can be purchased on Amazon.
---
So, Which Will It Be?
That all depends on what you're willing to spend, because it isn't just the humidifier you need to purchase when it comes to some of these Vicks models (or other brands). M.D. Vincent Iannelli says to keep the following in mind, "When buying a device, keep in mind that there are also hidden costs to owning and using a humidifier or vaporizer […] Knowing the cost of these replacement items and how often they have to be replaced can help you find the true cost of your humidifier."
Here are some final pros and cons to consider regarding each of the Vicks humidifiers featured herein.
Vicks Starry Night Humidifier:
| Pros | Cons |
| --- | --- |
| Safe for Pets | Requires filters |
| Safe for Children and Infants | Added Cost |
| No risk of 'White Dust' | |
Vicks Mini Humidifier:
| Pros | Cons |
| --- | --- |
| No filters required | Not your friend on energy costs |
| Easy to Use | Can potentially (literally) burn you |
| Variety of color options | |
| Auto -Shut Off feature | |
| Wide Tank Opening | |
Vicks Ultrasonic Humidifiers:
| Pros | Cons |
| --- | --- |
| Uses little energy | Requires cartridges |
| Runs very quiet | Added Cost |
| No hot surfaces/risk of burns | Risk of White Dust expelled/inhaled |
| Low maintenance | |
| Wide Tank Opening | |
Perhaps the best question you could ask yourself is: which humidifier is best suited for my household?
If you have children and/or pets, you might consider the Starry Night.
If you're looking for something small that's able to cut out additional costs due to filters or cartridges, and don't mind a little higher energy bill, you might want to go with the Mini.
If you want something with a bigger tank that runs quiet, uses little energy, and isn't high maintenance then you might delve into the Ultrasonic.
The choice all depends on your own needs, but either way happy shopping!
Product Details
Vicks Starry Night Cool Moisture Humidifier
Vicks VUL520W Filter-Free Cool Mist Humidifier, Mini
Vicks Ultrasonic Humidifier
Features
This cool moisture humidifier with an antimicrobial filter is ideal for any bedroom, particularly medium and large spaced rooms. It expels just the right amount of moisture into the air, which promotes a more comfortable sleep, and includes a built in light display casting a crescent moon and stars onto the ceiling with multiple color settings.
Each time the unit is re-filled with water, The Vicks Starry Night Humidifier can operate for up to 24 hours when the setting is placed on -low-.
In addition to infants and children, adults can also use the Vicks Starry Night humidifier. Many find that a humidifier becomes an essential part of their bedroom. It helps them obtain a good night's sleep, and for combating: Dry Air, Allergens, and Coughing/Congestion.
If you or a loved one are sick, this handy little machine can help keep you/them in a relatively cough-interruption free sleep as humidifiers provide temporary relief from cold or flu like symptoms, such as coughing and congestion.
test data 27 April 
Available in blue or pink, this .5 gallon cool mist humidifier is filter-free, and provides up to 20 hours* of breathable, soothing air (when set on -low-). Using steam and humidity, it helps clear the air ensuring a more comfortable breathing atmosphere.
The Vicks Mini is very small and extremely quiet, which makes it ideal for smaller bedrooms or nurseries. It can even be used in other environments, such as at the office to provide a better breathing experience outside of the home.
Much like the Starry Night model, the Vicks Mini aids in helping both children and adults obtain a good night\'s sleep by supplying just the right amount of moisture, which aids against: Dryness in the air, Allergens, and Relief from cold and flu related symptoms, mainly coughing/congestion.
The Integrated Scent Pad Heater incorporates the optional use of Vicks VapoPads, which give off a soothing scent, and can be particularly useful when you or a loved one are ill.
The output level of humidity can be adjusted to better suit each individual\'s needs.
And last but not least there is an Auto-Shut Off, which activates once unit is completely empty of water.
test data 27 April 
The Vicks Ultrasonic Humidifier runs quietly, producing an ultra-fine mist, which adds moisture to dry air, enabling you and your loved ones to enjoy a breathable atmosphere, and obtain a much more comfortable sleep.
This model is best suited for medium to large sized rooms, so it is perfect for your living room or perhaps even your bedroom depending.
In addition, the Vicks Ultrasonic Humidifier has Mist Controls, which gives you the ability to adjust the humidity output to suit your individual needs. Its convenient design is equipped with a demineralization cartridge and a clear 1.2 gallon water tank that operates up to 24 hours once it is filled to capacity. The tank also includes a handle to ensure ease in filling and lifting.
The Vicks Ultrasonic Humidifier also includes a power switch that enables you to select different levels of humidity. The recommended setting is high for larger rooms to ensure comfort. In average sized rooms, the setting recommended is low.
Need some added relief? Incorporate the use of Vicks VapoPads! The VSP-19 pad produces menthol vapors to help you breathe even more comfortably. And if you're after something to help calm you and lull you to sleep, try using the VBR-5 pad, which gives off a soothing lavender and rosemary scent.
test data 27 April 
Item dimensions
11.38 X 11.34 X 13.19 X 6.60 in
10.00 X 6.00 X 12.00 X 0.01 in
Pricing / Order Info
Estimated price difference
Amazon Prime


Selling Best on Amazon right now

6129

24628

9410277
Product Comes from Amazon warehouse

Package dimensions
11.20 X 11.60 X 13.30 X 6.95 in
9.61 X 9.65 X 10.67 X 3.78 in
Product Identifiers
MPN;
Model;
Part Num;
Sku;
VUL520W
VUL520W
VUL520W
VUL520W