I love Honeywell products, especially their fans (the one in my bathroom is amazing). So when I found these humidifiers, I knew I had to talk about them! All three are evaporative, claim to be 99% bacteria free via UV lighting and antimicrobial filters, and each lends a cool mist to the atmosphere for a far more pleasant breathing experience.

As all are identical in function and claim, the question I am asking is: Which humidifier cleans the air you breathe, and keeps it the cleanest?
HONEYWELL COOL MIST HCM-710
HONEYWELL COOL MIST HCM-350
HONEYWELL COOL MIST HCM-6009
Honeywell Cool Mist HCM-710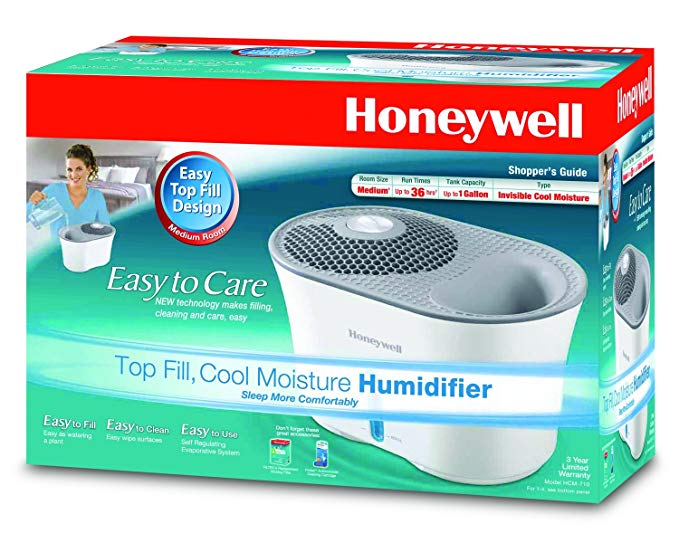 How Does it Work?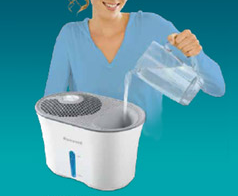 The Honeywell HCM-710 was designed with simplicity in mind, and is VERY easy to use! You start by filling the tank with water inside the 'water fill funnel' (the large opening at the top). Once the humidifier is turned on, a 'wicking filter' absorbs the water, and a fan inside draws dry air in through the filter. The result of this is a cool mist–evaporated water–coming out of the unit that leaves the atmosphere in your home cool, refreshing, and most importantly, breathable.
The Pros

This humidifier features a one-gallon, 'top fill' tank with a wide opening, so you can fill it and keep it clean with ease. An 'illuminated water window' gives off a soft, blue glow and lets you know exactly how much water is in the tank at all times. There are three speed settings that you can choose from giving you control of the moisture level in your home or office, and also the sound level of the humidifier. Also, the Honeywell HCM-710 can run up 36 hours on 'low', that's three nights and/or days of clean air!

Lastly, you can monitor the humidity level and temperature in your home by using the Honeywell Humidity Monitor. You do not need this to run your humidifier, it is an optional accessory purchase.
The Cons
One issue comes in the form of noise; while this humidifier runs quietly, it makes a loud vibrating sound once the water level is low. The other issue is that the water window is sometimes difficult to read, meaning you can't quite tell where the level is. However, overall the humidifier does what it's supposed to: clear the air.
FAQs Section
Q:How do you clean the unit/the fan and what can you use to clean it with?

A:There are different ways you can approach this. Using water and vinegar is a natural, safe, and effective cleaning choice. Mild soap and water is a traditional favorite and works just as well. Someone also mentioned using bi-carbon soda, and it works, too! Oh, and getting to the fan is easy. Just lift the top off the unit, and you gain access to everything you need to clean!

Using harsh cleaning products such as bleach is not recommended as it ruins the filter. Speaking of that, this humidifier uses the HAC-504 Filter A, so if you need one, please feel free to click on the link to view/purchase.

I also recommend using distilled water to fill the unit if your budget allows. You'll avoid hard water issues, such 'white dust', which comes from mineral deposits in tap water that can be expelled into your home by the humidifier, leaving white residue behind. Another way to keep the unit clean is to use the ProTec Cleaning Ball.

Q:Is there a way to turn off the light in the 'water window'?

A:No, however if the light is bothersome you have a few options. Turning the unit away is one way to go. You can also try putting a piece of tape over the window. I suggest using duct tape or decorative if you're feeling fancy.

Q:Can I use essential oils or aromatherapy pads with this unit?

A:I wouldn't recommend using oils as it might clog or potentially ruin other working parts. This was not made with aromatherapy pads in mind, either.

Q:Does it automatically turn off when it's out of water?

A:No, it doesn't.
---
Honeywell Cool Mist HCM-350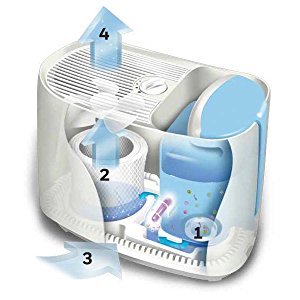 How Does it Work?
As with the HCM-710, the Honeywell HCM-350 is an evaporative type of humidifier. Water from the tank is absorbed by the 'wicking filter' like a sponge. A fan inside the unit draws in the dry air, causing it to pass through the filter. 'Ultraviolet Technology' infused into the humidifier ensures that little to no bacteria is either growing inside of or coming out from the humidifier. The resulting evaporated water comes out in a cool, UV clean, fine mist.
The Pros
This humidifier runs VERY quietly and is PERFECT for bedrooms! The one-gallon tank allows up to 24 hours of moisturized air when set on 'low', and it only uses 60 watts of energy while it's running. It can be used by adults, babies, and children especially when sick, and the 'Quiet Care Technology' makes this humidifier 30% more quiet than others on the market.

Dry air is notorious for causing damage to our skin and nasal passages, but did you know it can also damage to some wooden objects in the home? Wood furniture and guitars, for example, require a certain amount of moisture, otherwise you run the risk of it 'warping' because the air is too dry! Dry air also increases static electricity within the home, leading to those annoying shock moments. However, this humidifier is powerful enough to handle all of these dry air issues.
The Cons
While this does run quietly, you can hear the fan running inside, even when the unit is on 'low'. However, that might be an additional form of help for people who also need a light form of noise to fall asleep to. Also, the humidity level is somewhat difficult to control. Even on 'low', your windows can get a considerable amount of condensation. However, if the air is horribly dry, that actually works in your favor.
FAQs Section
Q:How do you clean the unit/fan, and how often should you clean it?

A:For the unit, remove the tank, and then lift the top off. To get to the fan, pull the grill off with a pair of pliers. To clean them, you can use a damp cloth, an antiseptic wipe, mild soap and water, or vinegar.

How often you should clean the humidifier depends on how much it's used.

If it's on 24/7, Honeywell recommends rotating the filter daily for longevity. You can also clean it in a mixture of 50% vinegar and 50% water to help it keep, too. However, you will ultimately need to replace it, and the one you'll need is the HAC-504 Filter A. You'll also need to clean the filter once a week—a good soak in vinegar does the trick. It's also a good idea to run 1/8 water and white vinegar through the unit to ensure the valve mechanism inside gets clean, too.

If you run your humidifier only a little bit at a time, you can probably get away with waiting 3 months to clean it. This is especially true if you use distilled water rather than tap water, which is full of mineral deposits.

One way to help make sure there isn't nasty stuff growing inside the unit is to use the ProTec Cleaning Ball, which is compatible with this model.

Q:How often should I change the filter?

A:That depends on what kind of water is being used. If it's tap water, you'll probably need to replace it more often; possibly every month. If it's distilled, you can probably extend the replacement window to 2-3 months.

Q:What is the Honeywell Humidity Monitor, and what does it do? Do I need it to run the humidifier?

A:It's a Honeywell accessory that monitors the humidity level, so you are in control of how much humidity there is. You do not need this to run your humidifier—it's entirely optional. If you are interested in purchasing or having a look at it, feel free to click here.
---
Honeywell Cool Mist HCM-6009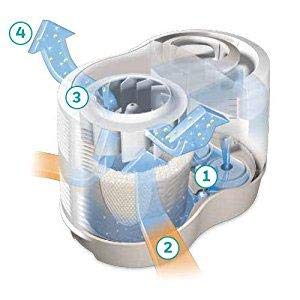 How Does it Work?
The Honeywell HCM-6009 is a humidifier that is quite different in its appearance, however it works exactly like the 710 and 350. Following the diagram above, here's a quick run down on how this works:

#1: Tap water from the reservoir flows out and down into the base where it is 'treated' by the UV light inside of the unit. The UV light prevents the mold, bacteria, and fungi from contaminating the evaporated water that eventually exits the humidifier.

#2: Sanitized water enters the base where it's absorbed by the 'wicking filter'.

#3: Dry indoor air is drawn in by a fan, and then blown into the filter.

#4: The resulting moisture forms little droplets that come out of the humidifier as a fine, evaporated mist.
The Pros
Two 1.5 gallon tanks (3 gallons in total) makes this humidifier perfect for larger rooms (up to 2300 square feet), and it can run up to 24 hours on 'low'. The humidity level in your home can increase by 40-60%, and the evaporative technology combined with UV light ensures that the air is lightly misted while remaining bacteria-free! This model is not only suitable for adults, but is also great for children and infants especially if they become sick. It features three humidity level settings, 'humidity reached' and 'tank empty' indicators, and an adjustable humidistat that automatically turns the unit on and off to keep humidity levels regulated.

In addition, the Honeywell HCM-6009 also helps protect wooden furniture, keeps indoor plants healthy, and reduces static electricity.
The Cons
One con lies with the plastic the tanks are made out of. Some people have told me it is flimsy and prone to breaking, especially at the handle. Others swear they are very sturdy, so it seems like a luck of the draw situation–sometimes you get a lemon, which can happen with any home appliance no matter where its purchased from.

The other complaint is in regards to the noisiness of the unit. Again, some people might find it soothing while others find it irritating.

These aren't deal breakers, just experiences others have had to be aware of.
FAQs Section
Q:How do you fill it with water?

A:The unit comes with two, wedge-shaped tanks. To fill them simply take them off the base one at a time and unscrew the plug on the bottom. After they are full, screw the plug back on, and presto; all done! And here's something really cool—if one of the tanks is running low, you can take it off while the humidifier is running to fill it (provided the other tank is full)!

Q:How do you clean it?

A:You can use a water and vinegar mixture to wash out the tanks and base. You can also use a water and bleach mixture for a deeper clean. Just make sure that you rinse the tanks out really well! I recommend cleaning them once a week to be safe. You can also use the ProTec Cleaning Ball, which is compatible, and helps prevent bacteria and molds!

Just give the filter a good soak in cold water and it's good to go. When it's time to buy a new one, you will want the HC14 Series Filter E.

Q:What kind of water should I use—is tap okay or do I need distilled?

A:You can use either tap or distilled. The only con to tap water is that you might have to change the filter out and possibly clean the unit more often if you have hard water. However, there's no reason you can't use tap water.
---
Which is the Winner?
One could say, 'all three win' because each works exceptionally well. However, you should ask yourself a few questions before you decide:

1) How big of a space am I humidifying?

If it's a smaller space such as a bedroom, the 710 or 350 model would be the best choice. If the space is bigger, such an office or living room/dining room, you might be better suited with the 6009 model.

2) Am I able to afford new filters when I need them?

All three of the humidifiers use the wicking filters, and while they are not costly it is something you need to factor into your monthly expenses.

3) Is noise a factor in making my purchase decision?

Some people need some noise in order to help them drift off to sleep, others prefer things quiet. This is really a matter of choice, so bear in mind that all of the humidifiers featured have the potential to make some type of sound (though not extremely loud), especially if the water levels are low!

4) What tank capacity am I looking for?

If you are looking for a bigger tank, you'll want the 6009 (it holds 3 gallons of water in total). However, it only lasts 24 hours on 'low' as does the 350 model. So if you're looking for something longer lasting you might be more inclined to go with the 710 model. It lasts 36 hours, and is extremely easy to fill and use.

No matter which one you choose, they all offer a cleaner, breathable answer to all of your allergy and congestion needs.
Product Details
Honeywell Easy to Care Cool Mist Humidifier, HCM-710
Honeywell HCM-350 Germ Free Cool Mist Humidifier
Honeywell Cool Moisture Console Humidifier
Features
The HCM-710 humidifier was created to make your life easier, not difficult. Its top-fill tank enables you to easily fill it, and the simplicity of its design makes it extremely \'easy to care\' for and maintain!An illuminated \'water window\' ensures that you can see the water level at all times, and know when it\'s time to refill the tank. It runs up to 36 hours when set on \'low\'.3 adjustable speed settings give you control of the humidity level in your home or office, and also control of the sound level of your humidifier.ProTec Wicking Filters ensure that 99% of all contaminants and minerals from tap water are dispelled, causing the resulting cool mist expelled into the air to be clean and refreshing while giving you the comfort you need from allergies, colds, and of course dry air.Works perfect for bedrooms and can be used by adults, children, and even infants!
The HCM-350 humidifier uses evaporative technology combined with UV lighting to give your home or office a humidification experience like no other! A UV light inside of the unit and an antimicrobial filter ensure that 99% of all molds, bacteria, fungi, and algae are eliminated. The result is a fine, clean mist that gives you back your sense of smell. And a wide tank opening makes this unit easy to carry, fill, and clean!This humidifier can boost your humidity levels to 40-60%, which studies have shown reduces the survival of the flu virus! It can run up to 24 hours when set on \'low\', and only uses 60 watts worth of energy. It\'s the perfect additional to any bedroom, and anyone can use it, including adults, children, and infants. It also helps protect wooden furniture from warping, and keeps static electricity away.
MULTI-ROOM COOL MIST HUMIDIFIER: Need a humidifier for large rooms? Want to add moisture to your whole house? This 3 gallon, easy fill humidifier console with a humidistat & auto shut-off can help control humidity in your home. It runs for 24 hrs. on low
FILTERED COOL MOISTURE: Evaporative Technology blows moisture off a wicking filter, helping it evaporative into the air quickly. It\'s not possible to over-humidify with evaporative technology because you can\'t add more moisture to the air than it can hold
HONEYWELL HUMIDIFIERS: Humidity levels in your home between 40-60% can make the air feel warmer & improve your breathing comfort, sleeping, nasal congestion & dry skin. Dry air can cause static electricity, damage wooden furniture & irritate health issues
HUMIDIFIERS FOR BABIES, CHILDREN, ADULTS: Humidifiers diffuse moisture into the air, and many find that a humidifier for the home, bedroom or nursery becomes an essential part of a good nights sleep when the air is dry, in allergy season, or when sick
HONEYWELL QUALITY: Improve humidity levels in your home & improve your comfort with a Honeywell humidifier. Compare to humidifiers & similar products from Vicks, Crane, Urpower, Holmes, Boveda, Dyson, Evapolar, Aprilaire, Fridgidaire, & Pure Guardian..Room Size: up to 2300 sq ft
Product Dimensions (LxWxH): 21 x 13 x 17.5 Inches
Item dimensions
13.03 X 10.39 X 18.58 X 9.90 in
17.48 X 14.96 X 23.15 X 19.95 in
Pricing / Order Info
Estimated price difference
Amazon Prime


Selling Best on Amazon right now

99999999

261987

86230
Product Comes from Amazon warehouse

Package dimensions
12.00 X 14.00 X 20.00 X 1.50 in
15.00 X 17.25 X 22.75 X 20.05 in
Product Identifiers
MPN;
Model;
Part Num;
Sku;
HCM-350
DHHCM350
HCM-350
HCM-350
HCM-6009
HCM-6009
HCM-6009
HCM-6009