Air Innovations carries some very tech-savvy humidifiers, and each one is unique in both function and feature.The two that I will compare are Ultrasonic, and the answer I'm after is: which one is better at easing allergy symptoms?So, if you live in a dry climate and/or a horrible air quality area as I do, please feel free to take a seat and listen in, because this one is for you!
AIR INNOVATIONS MODEL HM-801BA
AIR INNOVATIONS HM-512
Air Innovations Model HM-801BA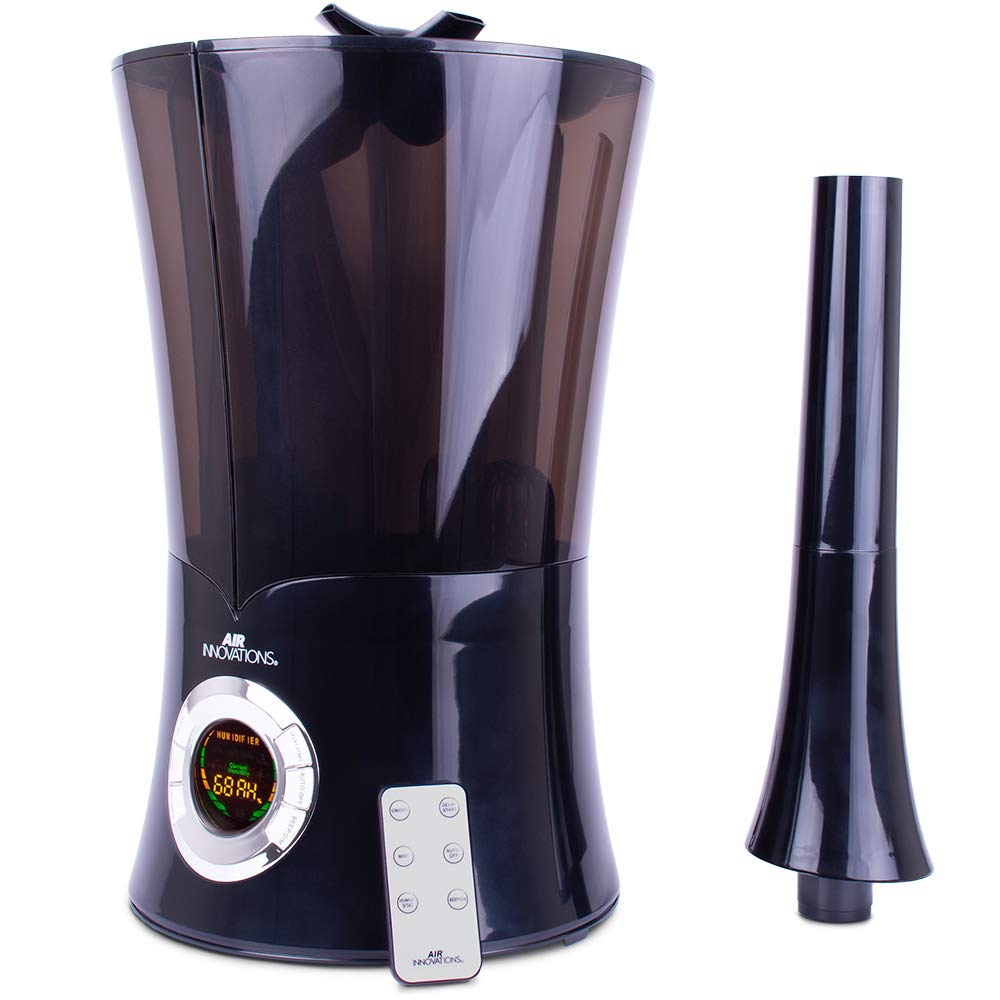 How Does it Work?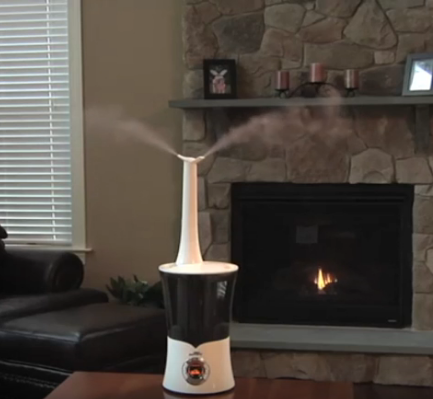 The Air Innovations HM-801BA is an Ultrasonic humidifier, which means it has a built-in nebulizer that causes the water to form droplets and pass up into the nozzle and out into the air.
Using this is very easy. You fill both tanks and then screw on the filters to the bottom of each one–like putting a cap back onto a water bottle. You then put the tanks onto the base, and attach the extension and dual nozzle to the top of the unit. Turn it on, choose your desired humidity setting, and presto: cool, breathable air.
I know that was a lot, so here is a visual aid!
The Pros
Air Innovations humidifiers use 'ceramic filters', which do not need to be replaced, merely washed. So, you don't have to scream at your laptop anymore because you can't find a compatible filter, and you save money. That's awesome, right? I thought so, too!
The HM-801BA also features 'dual tanks', so you aren't constantly re-filling. And running the unit on 'low' makes the water last for 120 hours, that's equal to 15 nights/days worth of allergen-free air. As a bonus, the tank and the base are made from 'Anti-Microbial Infused' plastic, ensuring the unit (and your home) stay mold, bacteria, and white dust free.

The 15″ nozzle is an optional extension piece allowing you to put the unit on furniture or on the floor to make it free-standing.
The other nozzle is smaller, but has two openings which you can adjust any way you want (i.e. one facing left while the other faces right). This means you control the direction of the humidity in the room; pretty sweet.

AND this humidifier was built with our sense of smell in mind! A small door on the side of the unit allows for use of the Air Innovations Aromatherapy Pads. They come in Eucalyptus and Lavender.
Last on the list of features are the digital display and the remote.

The digital display is programmable, so you can time the unit to turn on and shut off whenever you choose. You can also set your preferred humidity setting. The unit remembers these preferences, and will monitor output levels to maintain your desired humidity level. You can also dim the display light so that you can still see it at night, but aren't disturbed by anything bright.

And if you're feeling completely miserable in bed or on the couch and are unable to reach the display, the remote will relay all of your humidifier needs. You can use it to turn the unit on/off, adjust the humidity, mute the 'beeping' noise the buttons make, and dim the display light if it happens to be nighttime or you feel a migraine coming!
The Cons
A frustrating aspect of this humidifier lies within the 'programmable' feature of the display. You can't pick the hours to start and stop it on. You have to set it according to whatever hours you need in a 24 hour period.

For example, say you need it to run from 12:00 am–5:00 am.
In that instance, 12:00 am would become 24, and 5:00 am would become 5.

That wouldn't be so bad if you didn't have to set the start/stop times separately. Also, it won't allow you to set the selected time frame on a 'loop'. You have to re-program the hours you want to start/stop on each time.
FAQs
Q:How do you clean this, and what do you use to clean it with?

A:The tank is removable from the base, so you can wash it with mild soap and water, or a small amount of vinegar cut with water if you prefer. It comes with a very small cleaning brush, and there are care instructions inside of the owner's manual as well.

Q:I read that this uses ceramic filters—how long do those last?

A:Air Innovations humidifiers do use ceramic filters, which never need replacing. Ideal in hard water areas, they filter out allergens and water minerals that cause 'white dust' particles to enter the air. You can soak the filters/wash them with mild soap and water to ensure longevity in the product and clean air in your home.

However, there is a possibility that the filters can stop working especially if hard water is used rather than distilled to fill the tanks. In that case, it's best to replace them every 3-5 months depending on how often you use the humidifier. You can view and purchase filters here.

Q:Does the water go in at the top or at the bottom of the unit?

A:It goes in the bottom of the water tanks. Simply detach them from the base, fill them with water, twist on the filters over the opening like a cap, and then put them back onto the base.
---
Air Innovations HM-512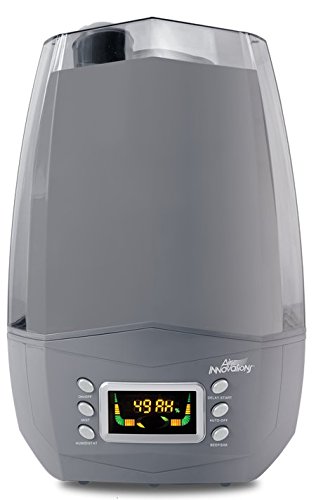 How Does it Work?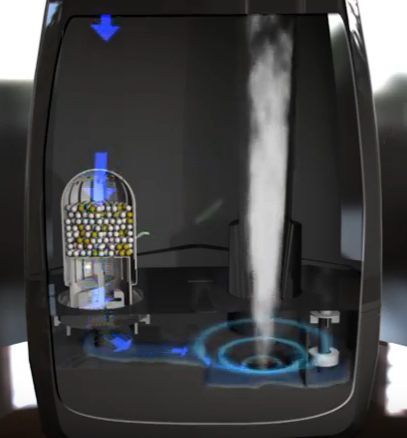 As with the previous model, the Air Innovations HM-512 uses Ultrasonic technology to dispense moisture into the air.

The 'ceramic filter' inside of the tank ensures that allergens are filtered out as water passes through. The now filtered water then turns into droplets, which are expelled into the air via the nozzle to provide a comfortable, allergen free environment.
The Pros
Since the HM-512 also uses ceramic filters, there's no need to replace them. Simply wash or soak them in mild soap and water–that's it!
This model comes with a 1.5 gallon tank with a handle to make filling and lifting less of a hassle. The tank also has a wide opening for easier filling and cleaning. If you keep the unit on the 'low' setting, it can run for up to 80 hours–that's 10 nights/days of clean, cool misted air! Also, the tank and the base are made out of 'anti-microbial infused' plastic. It creates a protective barrier to keep mold, mildew, and white dust from growing in the unit and being expelled into your home.
There is only one nozzle, however don't let that discourage you. It can rotate 360 degrees, which means you control where the mist goes! And I've seen quite a bit of mist come out of the unit, so wherever you point the nozzle will become nice and saturated to your liking, no worries there.

It also features a digital display, which you can program your preferred humidity settings into. You can also tell the unit when to start and when to stop without incident–a relief for the technological or patience challenged!
The Cons
The square footage covered by this unit is 400, which is less than the HM-801BA (covers 700 square feet). Not a concern of mine as my room isn't too big, however some people might be looking for more coverage.
While its disappointing that you can't use aromatherapy, it's not devastating. You'll still get the humidity, which is the point of looking for a humidifier in the first place.
You can't have it very close to your bedside as you could potentially knock it over. Once that happens, the unit doesn't work anymore, even if landed on carpeted flooring! Not a deal breaker though it just means that it's best to keep it out of reach, especially if you have children or pets.
FAQs Section
Q:Is this model relatively easy to clean?

A:Yes; as with the previous model, the HM-512 comes with a small cleaning brush to help clear off any mineral deposits left behind if you use hard water. Using distilled water will help ensure you don't have the 'white dust' issue/residue on your furniture or in the unit. The wide opening on the tank also makes it much more easier to clean. Speaking of which, giving the tank (and even the filters) a good rinse with mild soap and water every now and then is fine. Just make sure the tank completely air dries before re-using the humidifier or putting it away!

Q:How much water can the tank hold?

A:The tank holds approximately 1.5 gallons of water during each use.

Q:Is it loud or quiet while it's running?

A:Extremely quiet—sometimes you forget it's on, so it's bedroom safe.

Q:Can I use essential oils or the aromatherapy pads with this unit?

A:Unfortunately no, this model wasn't designed for use with essential oils (which Air Innovations urges you not to use) or aromatherapy pads.
---
Which Is The Better Option?
Well, let's weigh the pros and cons for both humidifiers.

The programmable display of the HM-801BA can be a bit of a pain to work with if you don't have patience. However, it can cover up to 700 square feet, has two water tanks which give it a longer run cycle, a 15″ optional mist nozzle for an even wider range of coverage, the option to use Aromatherapy Pads, AND a remote for added ease of operation to the user.

The HM-512 can only cover up to 400 square feet, and you can't use aromatherapy. However, it comes with a 1.5 gallon tank with a handle, a wide opening for easy fill-up and clean-up, a 360 degree nozzle, AND a programmable display that won't leave you tearing your hair out in frustration.
In terms of which is the better unit to purchase for allergy symptom relief, it's a tie. Both are capable of helping with that and so much more. It really does come down to preference on this one.

If you want aromatherapy, a wide range of coverage, and can handle the occasional challenge with technology, you might be drawn to the HM-801 BA.

If you prefer no scents because they amplify/trigger your allergies, have a smaller space, and don't mind not having a remote then you might be more inclined to go with the HM-512.

Either way, you win!


Product Details
Air Innovations MH-801BA 2.15 Gallon Cool Mist Dual Tank Digital Humidifier with Aromatherapy for Large Rooms Up to 700 Square Feet Black
Air Innovations Cool Mist Smart Humidifier-mh-512 Platinum
Features
The MH-801BA (and others from Air Innovations) uses ceramic filters, which never need to be replaced!
The tank and base are anti-microbial, ensuring a cleaner, healthier breathing experience.
Features a 2.15 gallon tank, which allows for up to 120 hours of use (when set on \"Low\"). That\'s equal to 15 nights of breathable, comfortable sleep.
No need to fuss over losing sleep; this model is whisper-quiet, and cool to the touch, making it an ideal addition to your bedroom.
Can humidify a room up to approximately 700 square feet.
The MH-801B features 5 different mist settings, enabling you to control how much humidity you would like in your space. Also included are a dual mist nozzle which you can point in any direction you desire, a 15\" tall extension nozzle, a programmable digital display, dual tanks, and a remote!
27 april test data
The MH-512 unit uses ceramic filters, providing a cleaner tank and air, and they never need to be replaced!
Features a 1.5 gallon, anti-microbial tank for up to 80 hours of use (when set on \"Low\"). That\'s approximately 10 nights of clean air that you can breathe in as you sleep.
Runs extremely quiet, ensuring an uninterrupted, peaceful sleep.
Able to humidify a room up to 400 square feet.
The MH-512 features 360 degree rotating nozzle, which you can point in any direction you want within the space. Includes a built-in handle on both the top and bottom of the tank, an extra-wide opening for ease of filling and cleaning, and a programmable timer!
Item dimensions
16.25 X 10.25 X 10.25 X 5.20 in
Pricing / Order Info
Estimated price difference
Lowest price + 81.9% more
Amazon Prime

Selling Best on Amazon right now

73934

2799046
Product Comes from Amazon warehouse
Package dimensions
11.70 X 13.30 X 17.90 X 7.75 in
Product Identifiers
MPN;
Model;
Part Num;
Sku;
MH-801b Black
MH-801B
MH-801b Black
MH-801b Black
HU32828 PLAT
MH-512 Platinum
-
-
Sub Category
Humidifiers & Accessories